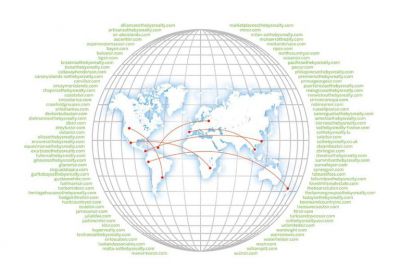 One immense network, incomparable exposure
With more than 80 agencies in France and more than 1075 agencies in the world in 81 countries, Sotheby's international Realty is the leading luxury real estate network worldwide.

Our inter-agency programme is one of our key advantages. The members of our network are interlinked in order to set up dialogues between prestigious buyers and sellers on a worldwide scale. These investment opportunities are handled with care and discretion.



The worldwide database comprising all the property handled by Sotheby's Realty is accessible to all our clients, enabling you to choose your holiday home in Mauritius Island, your luxury apartment in Paris or your loft in New York, from the comfort of your home.



The trusting relationship we build up with you over time is the best guarantee that we will help you find the property that corresponds to you best, fast.

Finally, the synergy between real estate property and sale by auction involves a unique and exclusive marketing strategy, which promotes targeted exposure to an influential audience.

This unique approach sets us apart from independent agencies and other networks.



If you are BUYING HERE and SELLING ELSEWHERE… or if you are SELLING HERE and PURCHASING ELSEWHERE, it is important for you to know that our special relationship with the worldwide network of Sotheby's International Realty helps our clients on a daily basis to sell or buy everywhere in France and throughout the world.